Nikita Dergilev is Head of Product at Netlogix, which creates future-focused freight solutions using digital technology. He moved from Moscow to Auckland in 2018 with his wife and two young children.
Why I moved to Auckland 
First and foremost, I was offered a good opportunity — a friend of mine referred me to a good position at an Auckland IT company, so I decided to give it a try. After I was interviewed remotely, I got the job. I'm not sure I could have made the leap of faith without the job offer.
I started to learn as much about the city and the country as I could. Auckland is known as a good city to live in, it's usually among the top in city rankings for liveability. A clear path to getting residency and English as an official language were other significant factors for us. Finally, Auckland is a relatively big and modern city with a good climate, located next to the ocean. 
 We had planned to move for a while, as we felt our home country wasn't the best environment to raise kids. So, we took the opportunity and began packing.  
In good company - job and career
We arrived in Auckland in 2018 and I have had the opportunity to work for and partner with a number of IT companies since then. I was pleased to find that there are world-class IT companies operating in Auckland. Xero, a cloud-based accounting software platform for small businesses that has over 2.7 million subscribers globally, is one of them and I gained fantastic professional experience when working there. Multi-culturalism, a diverse talent pool, and the use of cutting-edge technology and product development frameworks enriched my practice and I got to appreciate our decision to move to Auckland even more. 
In my current role as Head of Product at logistics company Netlogix, I'm establishing a product team and participating in a significant product transformation. It's an amazing opportunity to introduce best practices from the world of software development to the complicated and exciting world of logistics. An opportunity to make a difference for such a massive and essential industry means a lot to me. 
Surprisingly, the work environment is not hugely different, however, there are lots of smaller benefits, such as a more positive attitude and better diversity.  
What's different about Auckland?
The lower population density makes a huge difference after living in a city as large as Moscow. You can get to know people living around you, you can build relationships and feel like a part of your community. Also, you just have more space, and places like playgrounds are not overcrowded. 
Auckland is home to people from all parts of the world and this great cultural mix was a huge and pleasant surprise. Another positive one was how active and sport-oriented the city is. Plus, Auckland is reasonably safe, so you don't need to think about daily threats to your children and it makes life more relaxed. On the negative side, the house prices are high and rent is expensive, so you need to factor that in.  
The major difference living here is the ability to enjoy the outdoors while living in a modern city at the same time. 
Auckland, in general, is a good mix of a small city and a big city. It's still small enough to have wild beaches and bush just around the corner, and yet you can find most things you need here. 
The moving process
I started on a Work to Residence - Accredited Employer Work Visa and got my Permanent Residence Visa two years after arriving. The visa application process is not bad, though it takes time to navigate all the information. 
We moved some of our things from Moscow, but in hindsight we should have moved more; it would have worked out to be cheaper than buying it all here. The moving process wasn't too hard, we hired a special company that managed the freight and delivered our things to the local warehouse until we rented our first house. 
Initially, we booked an Airbnb apartment for a month and started to look for a house to rent as soon as we arrived. House hunting was a bit of a challenge – we took some time to get around various suburbs, learn the differences between them, and decide where to live. We secured a good place as our first base and then spent a year to get to know the city more and decide on a school, then finally chose Ellerslie as our more long-term base.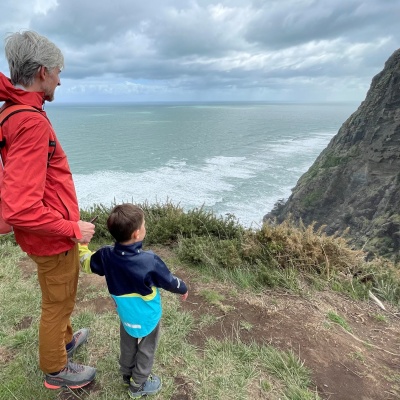 Family life in Auckland
We wanted to live close to the city centre and close to our son's school (choosing a good school was a big deal for us), yet it needed to be an affordable area. Ellerslie, which is around 20 minutes' drive to the city centre off-peak, fit the bill. It's a peaceful suburb with a nice village, with everything we need day to day nearby – shops, parks, gyms, swimming pools, schools and transport. 
 
Playcentres became our gateway to the local community, they are similar to kindergarten but the whole family gets involved. We were able to socialise with other families, and this approach met our expectations of how early learning should work. 
I love rock climbing and spend a lot of time in a climbing gym. I regularly climb outdoors in and outside of Auckland which is a huge benefit of living here. I also enjoy hiking and cycling. I cycle to work; it's the fastest way to move in the city for me. Outside of work, it's always by car, which is much easier when you have young kids.  
Our family always plans a few camping trips a year and we now have a tradition to explore a new region of New Zealand every year. We really enjoyed Gisborne and Tongariro National Park was great for hiking. We absolutely love Northland with its long beaches, beautiful bays and sand dunes. Cape Reinga (the northernmost tip of the North Island) is arguably one of the most spiritual places I have ever been to. The capital city Wellington is another highlight; with such a cosy, stylish city centre, it feels like Europe. 
Changes and challenges
Starting in a new country was hard as everything was different. We were lucky to have friends here, otherwise we would have felt a bit lost. I reckon the only way to overcome difficulties is to keep calm and give yourself some time to find your feet. 
It starts with simple things, such as learning how to think in New Zealand dollars, what is expensive and what is not, how to pay for utilities, and even finding out where to buy simple things like scissors or a birthday cake. The good thing is that you can find useful information on the local city and government websites. Once you start socialising, I believe it can still take one or two years to feel truly settled, but it's all doable. Another tip: your first purchase should be a car, it is much easier to move around the city, particularly with children, while looking for a place to rent. 
At the same time, the first few months felt like a vacation: nature, the ocean, green hills and sheep grazing right in a park.  
A great choice
New Zealand is a relatively small country, so building a great career might be more challenging here compared to larger countries, but you can find a good job in a startup or an international company if you invest enough effort. 
Some people might be disappointed if they expect to feel the vibe of a very large city, but if sports, outdoor pursuits and community activities are more important to you, Auckland is a great choice. Plus, it is a great city to live in for a family with young children. 
Resources and links
Start planning your Auckland Smart Move
Sign up to our newsletter for information and updates.