The SKYCITY Sky Tower has been an iconic landmark on Auckland's cityscape since 1997; a prominent reference point no matter where you are in the region. It was top of my list to visit when I moved here.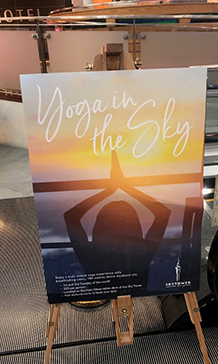 I was fortunate enough to head up the Sky Tower to experience 'Yoga in the Sky' - an incredible yoga experience, with a 360-degree view of the city. 
I'd describe myself as a bit of a sports geek, I love to move my body and consequently, I chose to live an active lifestyle. This passion for sports influenced my decision to study papers in exercise science, sport psychology and sports, health and PE this semester as a part of my degree. 
When I first arrived in Auckland, I grabbed my yoga mat and enrolled in a local studio. This was an old hobby of mine and it felt like the ideal thing to help balance out my hectic university lifestyle. I've noticed it's helped to centre me, providing a tranquil and calming space for me to just 'be' in the space. Plus, I've met some lovely people and gained flexible hamstrings!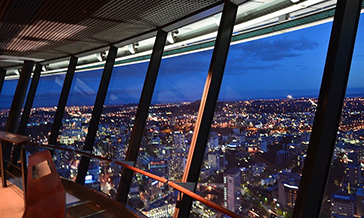 The yoga session took place on the 51st floor of the Sky Tower – it was so high up! The view suddenly engulfs you when you step out of the elevator and onto the space. I immediately had to swallow and pop my ears to recalibrate with the new height. It was a dramatic and truly magnificent view of Auckland and the Hauraki Gulf. It just took my breath away! Below, I had a great vantage point to the bustling city centre below, and then out to the picturesque islands in the Harbour. It truly was a special way to start the day. 
Our yoga instructor specialised in Vinyasa yoga, and with a calm and steady voice she guided us through a 60-minute practice. Throughout the session, I felt my body begin to open up, releasing tension in my joints and muscles. With an existing foundation of knowledge in yoga, I felt I was able to rely on my muscle memory for many of the poses and concentrate on my breathwork.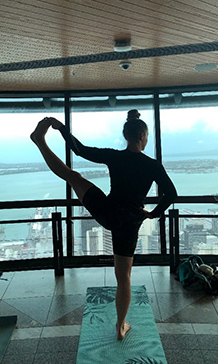 One hour later everything felt bright, clear and connected. It was the perfect way to awaken the body before a busy day at university. 
Maila Walmod
University student on exchange in Auckland