You can find The Parasol & Swing Company on Auckland's waterfront – a bustling part of the city centre with some of the best restaurants and bars with live bands playing every Friday and Saturday.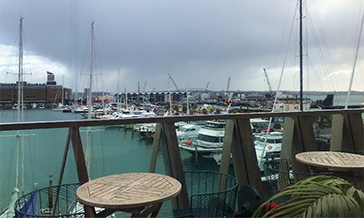 Leticia Campos: Located above most other bars and restaurants in the Viaduct, The Parasol & Swing Company has incredible views that don't disappoint. Despite it raining when I dined in, we were lucky to grab a spot on the covered deck with a hot heater close by. Even on a rainy day, the views are breathtaking.  
The $25 deal for Restaurant month featured Prawn & chorizo chimichanga for the entrée, with Tamarind & chipotle braised brisket for the main dish. Chimichanga is a deep-fried burrito, which came with avocado and salsa. I've never had Chimichanga before, but I really liked it! The inside was very juicy, and the outside of the burrito was crispy, so I enjoyed the combination of these two different textures.   
Sayan Hirayama: As Leticia and I were finishing up our delicious chimichanga's, our main was served. The main dish consisted of Braised brisket, green papaya slaw, fresh cucumber, crispy shallot, crushed peanuts, pickled onions, and house-made corn tortillas. This was all presented on a wooden platter, it looked so pretty! It was a lot of fun hand-making the tacos, and trying different ingredients together. It made this dining experience both unique and memorable.  
At The Parasol & Swing Company you will not only find delicious food and cocktails, but you'll also be dining with beautiful harbour views, from the comfort of your table. The staff were friendly and the service was great, make sure you check this place out! 
Want to keep updated with our blogs?
See what international students are up to in Auckland!