Waiheke Island has been on my bucket list for a long time.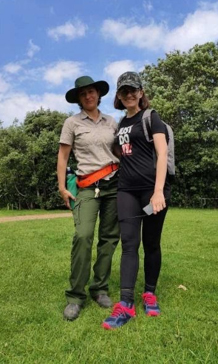 I've heard of the island's breath-taking views, world-class vineyards, white sandy beaches, trailing and hiking tracks. After a short ferry ride from downtown Auckland, my Waiheke adventure began. 
Visiting Waiheke inspired me to learn more about the preservation and the natural surrounds of Tāmaki Makaurau. 
The history of Waiheke Island tells an important story of sustainability and the role we must all play to protect our natural environment. The Māori translation for Waiheke is Te motu-arai-roa, which translates as 'the long sheltering island'. Once the first Europeans arrived, the island became known as Motu-Wai-Heke ('island of trickling water'). 
The main reason for travelling to Waiheke was to participate in 'Get into Nature: Waiheke Island' - an organised international student experience that enabled me to get closer to nature. As part of the group activity, we helped tidy up the Whakanewha Regional Park, located on the south side of the island – about 20 minutes' drive from the Ferry Terminal.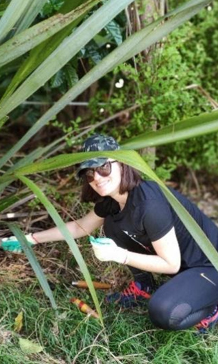 The park is appreciated for its coast forest, with cascading streams, native plants, birds and white sandy beaches.  
On arrival, we were greeted by the regional ranger, Natasha, whose had great enthusiasm and passion for nature. After a warm welcome, we rolled up our sleeves and started work.  
From branch-trimming to installing signs, we had a great few hours of physical labour contributing to the preservation and conservation of the area. It was a time well spent and I thoroughly enjoyed it.  
My favourite activity was trimming back the New Zealand native flax plant, a handsome, distinctive plant with spiky leaves. The flax plant has been culturally significant within Māori traditions and rituals - it is symbolic of the family structure, with the leaves representing the bonds and relationships within the family. The leaves in the middle – the rito ('the babies') need the most protection, they are the ones that will carry on with the tradition and the family customs once they are fully formed. The leaves on each side of the rito are the awhi rito or mātua – the parents. The outer, older leaves are called the tūpuna ('the grandparents'), which require regular pruning and management. I enjoyed hearing about this philosophical approach to flax, it took on a whole new meaning for me.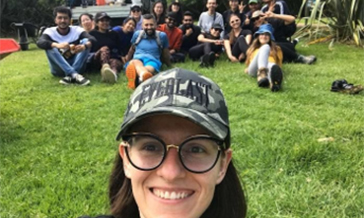 My Waiheke Island adventure was amazing and truly memorable. The day was all about sustainability, friendship, and enjoying nature. It was the perfect day, everyone left with a big smile. 
  
Irena Angelovska 
From Macedonia